The new Horizon Europe research and innovation programme (2021-2027) has launched five European Missions to bring concrete solutions to some of the greatest societal challenges. The Missions have been designed by five Mission Boards which gather together top experts from different disciplines and by citizens' contribution and aim to mobilise and activate public and private actors, from EU Member States, regional and local authorities to research institutes, entrepreneurs and citizens to to support Europe's transformation into a greener, healthier, more inclusive and resilient continent.
Among the five Missions, one has been dedicated specifically to protect and restore soils in Europe and beyond in line with other EU and global initiatives such as the Green Deal and the Sustainable Development Goals (SDGs).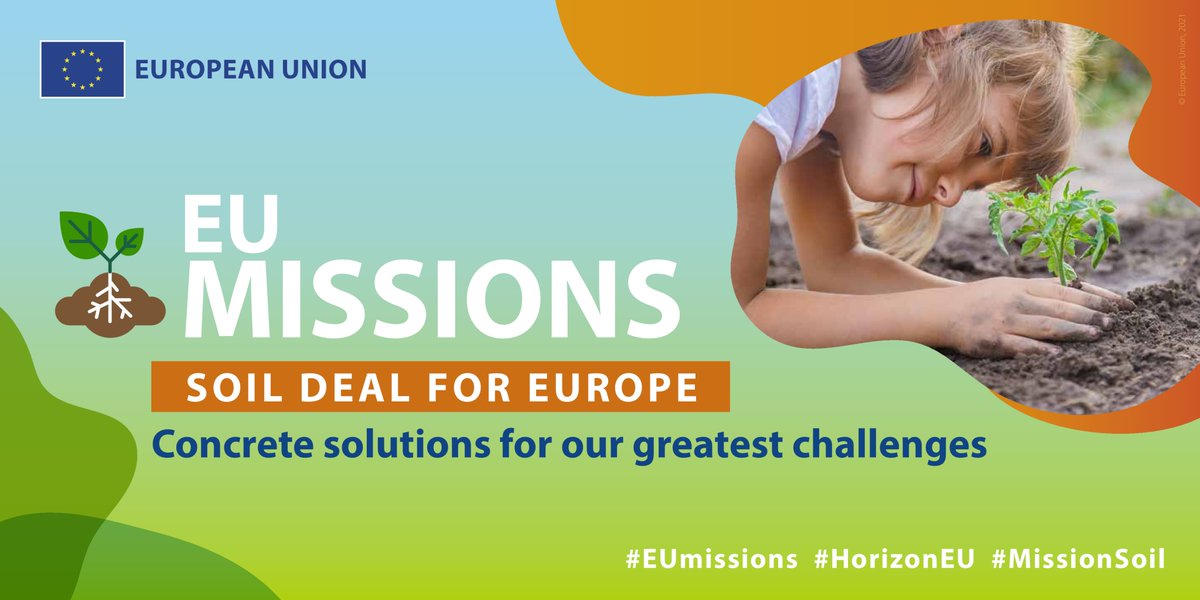 "A Soil Deal for Europe" Mission settles a specific target to be achieved by 2030: at least 75% of all soils in the European Union are expected to be healthy for food, people, nature and climate. In order to pursue this commitment, a portfolio of actions – such as research projects, policy measures or even legislative initiatives – are going to be launched: in the specific case of the Mission Soil, 100 "living labs" (LLs) (experiments and innovation in a laboratory on the ground) and "lighthouses" (LHs) (places to showcase good practices) are going to be set up to lead the transition towards healthy soils.
In particular, the Mission is structured in:
8 specific objectives linked, further articulated in specific mission targets:
1.Reduce land degradation relating to desertification
2.Conserve and increase soil organic carbon stocks
3.No net soil sealing and increase the reuse of urban soils
4.Reduce soil pollution and enhance restoration
5.Prevent erosion
6.Improve soil structure to enhance habitat quality for soil biota and crops
7.Reduce the EU global footprint on soils
8.Increase soil literacy in society across Member States
4 transversal, operational objectives:
1.Build capacities and the knowledge base for soil stewardship
2.Co-create and upscale place-based innovations to improve soil health in all places
3.Develop an integrated EU soil monitoring system and track progress towards soil health
4.Engage with the soil user community and society at large.
The Mission will be implemented in three interconnected phases:
Introduction & Pilot phase (2021 – 2025) to develop implementation structures
Expansion & Innovation phase (2025-2030) to expand activities, generate and test innovations
Scaling up & Mainstreaming phase (2027-2030) to scale-up solutions and adapt to local needs.
The funding scheme of this Mission is going to be organised around three main components:
Investments under Horizon Europe – mainly for funding R&I programme and the co-creation of LLs and LHs
Instruments of the Common Agricultural Policy (CAP)
EU and Member States' investments in the form of grants, subsidies or financial instruments.
Further information about the Mission Soil is available at this link.
Download the Implementation Plan.
References
European Commission, (2021). European Missions. A Soil Deal for Europe. 100 living labs and lighthouses to lead the transition towards healthy soils by 2030. Implementation Plan.
https://ec.europa.eu/info/research-and-innovation/funding/funding-opportunities/funding-programmes-and-open-calls/horizon-europe/missions-horizon-europe/soil-health-and-food_en