We want to present you the "3rd Edition of Global Conference on Agriculture and Horticulture"
(Agri 2023). The international congress will take place in Valencia, Spain from September
11–13, 2023. This time, anyone interested will be able to attend in virtue of the hybrid approach
that will facilitate the accessibility (from home or place of employment).
"Rethinking Paradigm Shift in Agriculture and Initiatives to Enhance Food Security" will be the
focus of the global conference.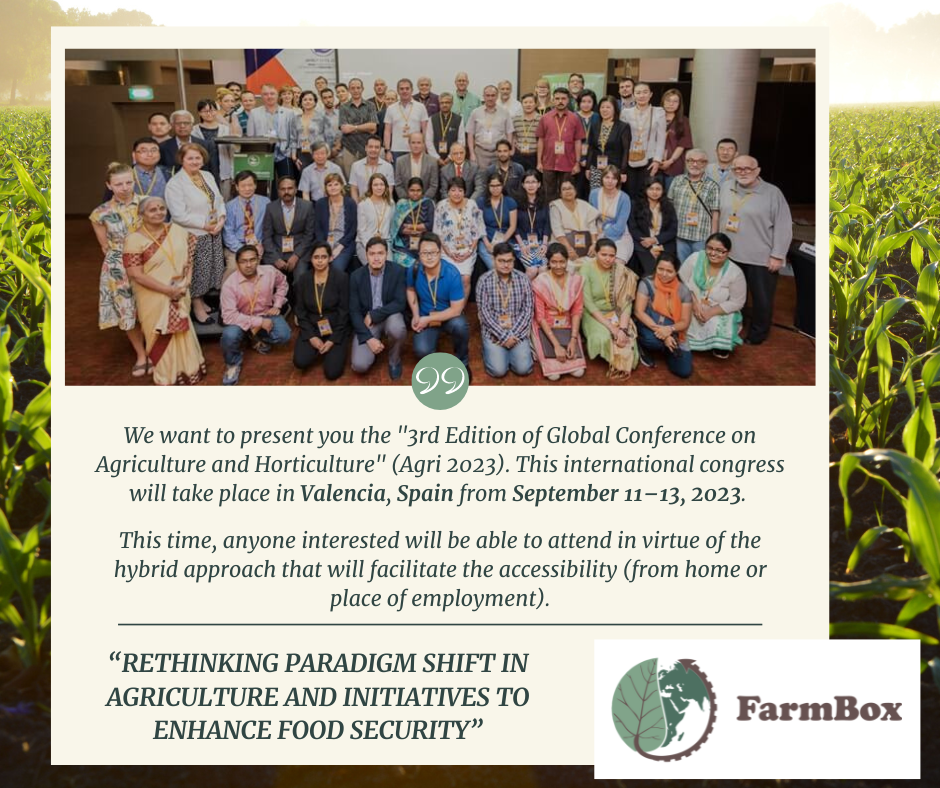 The most important industry in a nation is agriculture. It is crucial for maintaining our existence.
The sector's growth is mostly being driven by emerging trends in agriculture. New agricultural
trends suggest cutting-edge technology and evolving farming practices. Over the past few
decades, the agriculture industry has undergone tremendous development, and the use of new
technologies has increased. All of these factors are causing the sector to grow. Recent
developments in agriculture have improved farmers' comfort and acceptance of their work. Both
the conditions of farmers and the expansion of agriculture are benefited by these improvements
or trends.
The conference's agenda brings together researchers, academics, plant science specialists, agriculturists, horticulturists, scientists, botanists, biotechnologists, and industrialists to discuss their most recent research findings and case studies from around the world in concurrent sessions.
Learn about the most recent trends and challenges in the field at this prestigious conference, and make the most of both the in-person and online conference's features. For presenting cutting-edge research in the domains of agriculture and related fields, it is one of the most significant and well-known conferences. Additionally, it fosters interaction between researchers and practitioners from different scientific disciplines who are all interested in advancing agricultural methods. Moreover, Agri 2023 offers the chance to hold plenary lectures, oral and poster presentations, workshops, seminars, or expos to examine fresh potential in the agricultural industry and related industries.
As the consortium of the FarmBox project, we recommend you to attend this future event we
believe to be a clear example of the potential technology has in agriculture. In this sense,
supporting our main goal on the project which involves the creation of a Simulator capable of
examining diverse factors to help users improve their agricultural processes and learn more
about their soils.
References
Magnus Group. (2022). 3rd Edition of Global Conference on Agriculture and Horticulture.
Retrieved from: https://agri-conferences.com/